Congratulations on being selected for jury service in Jefferson County!
Your service is essential to the administration of justice, and your participation is greatly appreciated by the judges, attorneys, and parties. The constitutional right to a jury trial is critical to our judicial system, and jurors are a crucial part of the process. Serving as a juror is not only an obligation, but a right and privilege. Thank you for serving.
A jury coordinator will be available to answer any questions you have concerning your service when you appear. However, the information provided on this website is up to date and current in accordance with Tennessee Laws and Statutes.
Jury Orientation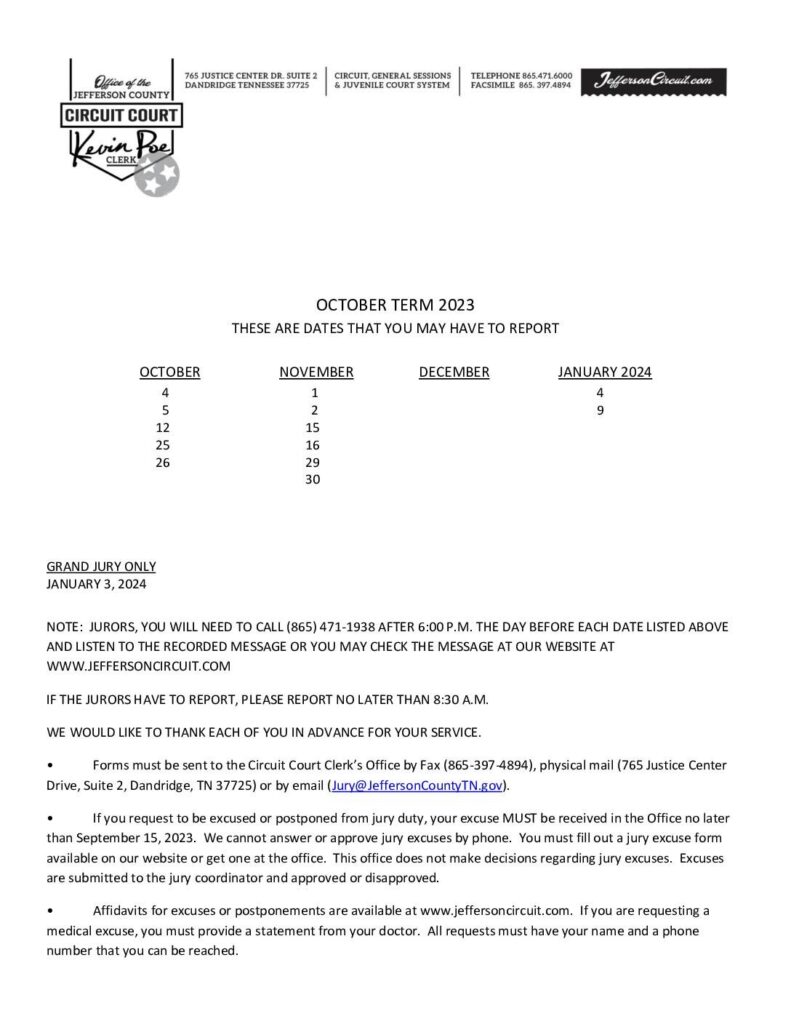 Information Card:
You will be provided with an information card on your appearance date. It is important that you complete and leave the card in the appropriate location in order to receive your juror compensation. Please inform the Clerk's Office of any change of address or contact information during your jury service.
---
Length of Service:
You will be given a list of dates of potential jury trials with instructions on your appearance date. If you are selected for the Grand Jury, you will have additional days to serve which will be explained to you on your first day. Everything you are required to do will be explained to you by the Judge or court staff.
---
Attire:
Jurors must be dressed appropriately. Jurors must not wear shorts, short skirts, sagging pants, see-through or suggestive clothing, visible undergarments (including undershirts and tank tops), flip flops, house shoes, bandannas, headbands, hats/caps, or any clothing (including T-shirts) with inappropriate or offensive advertisements or slogans.
---
Prohibited Items:
Jurors may not bring drugs (unless you require prescription medication during your service), alcohol, knives or weapons. Due to security issues no cell phones are allowed in the Justice Center. Your cell phone may be left in your car.
---
Compensation by the County:
Jurors will receive $10.00 for each day's attendance plus .10 per mile (one way). Please be prepared to give your mileage to the court staff on your first day. You receive compensation each day you attend court, even if you are not selected as a juror in a specific case. Your compensation will be mailed to you at the end of your service. Again, make sure we have your current address.
---
Employer Compensation:
If an employer employs less than five people on a regular basis or if the juror has been employed by an employer on a temporary basis for less than six months, the employer is not required to compensate the juror during the period of jury service. All other Tennessee employers must provide a juror's usual compensation for the time the juror actually spends serving and traveling to and from jury duty. An employer has the discretion to deduct the amount of compensation the juror receives from the court. You may request a certificate of attendance from the Clerk's office when you report for jury duty if your employer requires such a certificate. It is your responsibility to know what is required of you by your employer while serving jury duty.
---
Employer – Excused Absences:
An employer must excuse the juror from employment for each day the juror's service exceeds three hours if the juror shows the jury summons to the employer upon the receipt of the summons. A juror who works the night shift or the hours immediately preceding the hours court is normally held contact the jury coordinator at (865) 397-2786 for additional guidance.
Jurors you do NOT have to report on Wednesday, October 25th or on Thursday, October 26th. You will need to check in after 6:00 pm on October 31st for Jury service on November the 1st.
Jurors you do NOT have to report on Wednesday October 12th. You will need to check in after 6:00 pm on October 24th for Jury service on October the 25th.
Directions to the Justice Center and Parking Information
765 Justice Center Drive,
Dandridge, TN
Phone: (865) 397-2786
Office Hours: 8 AM until 4 PM Monday through Friday (closed on all state and county holidays).
The Justice Center is located off Highway 92. Turn beside of Arby's onto Killion Road and take first right onto Justice Center Drive. Parking is available in front and at the side of the Justice Center. The Justice Center may not show up as a valid address on dated GPS systems. The Arby's address shows up on most, the address there is: 682 Highway 92 South, Dandridge TN 37725.